The answer is yes. However, not with all providers and only under certain conditions. With Sunny Cars "no deposit" offers, you can book rental cars without a credit card in some countries.
If you do not have your own credit card or only a debit card (more information on debit cards can be found here: Which credit cards are accepted by the on-site rental companies?) , you can of course also book a rental car without a credit card.
To have only those offers displayed that you can book without a credit card, simply select the filter option "without deposit". Only suitable offers will be displayed.
In addition to the "no deposit" option, you should also consider the payment method. Most operators who offer no deposit packages usually have payment methods other than credit card.
To be on the safe side, you can choose your preferred method under "Payment methods".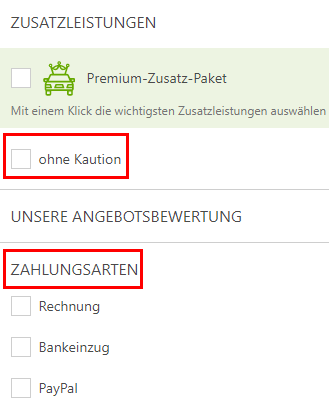 Insider tip: If the trip is not imminent, it might be worth getting a fully-fledged credit card.
A list of the best free credit cards can be found here: https://www.finanztip.de/kreditkarten/kostenlose-kreditkarte/